10 Best German Village Restaurants (According to Matt)
Quiet and quaint, this area is best known for its 19th-century brick houses that line its beautiful streets, but you would be wise not to sleep on the amazing food scene. For those nearby German Village, Ohio, or who intend to visit, please do not miss all of the fantastic local restaurants.
As its name suggests, it became a place that homed many German immigrants in the mid-19th century. However, the food offerings in the area are far more diverse than just your typical German fare. A variety of historic and new restaurants offer some of the best atmospheres and food in Columbus.
Please keep in mind this is just my opinion. Feel free to let me know if you disagree, as I'm sure we all have our preferences! After all, what fun is a top 10 list without a bit of controversy?
10. Sycamore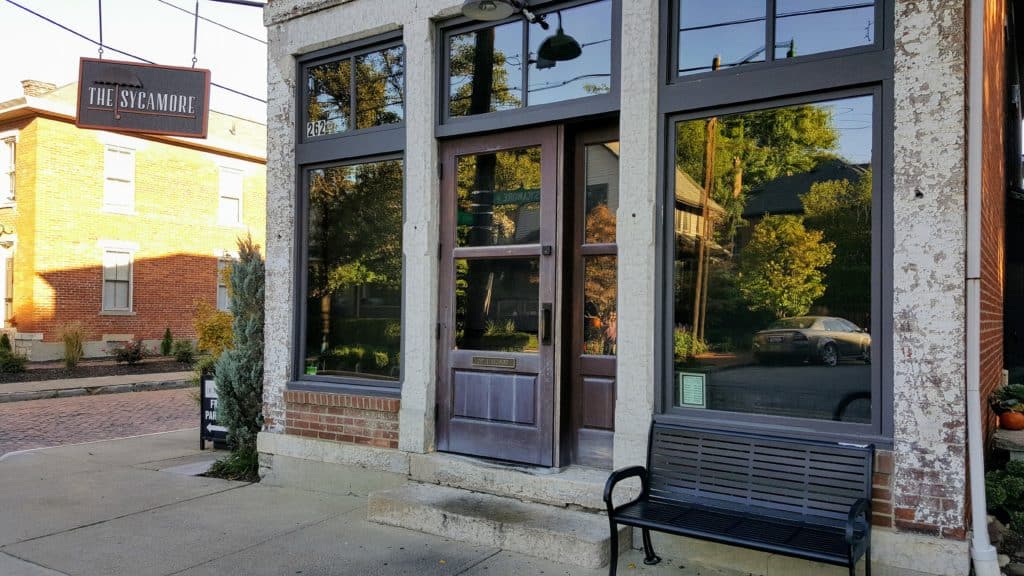 Recently under new ownership, the Sycamore restaurant is located on the east side of German Village near Schumacher Place. This restaurant keeps it simple, but also has an upscale vibe. Stop by for a cafe/diner experience in the morning and for lunchtime, with more upscale food and cocktail offerings in the evening.
Matt's Favorite:
I got the Chicken Thighs, and they were fantastic, but the menu seems to rotate frequently, which is great. The cocktails are great, and the staff has always been super friendly.
Website:
---
9. Schmidt's Sausage Haus und Restaurant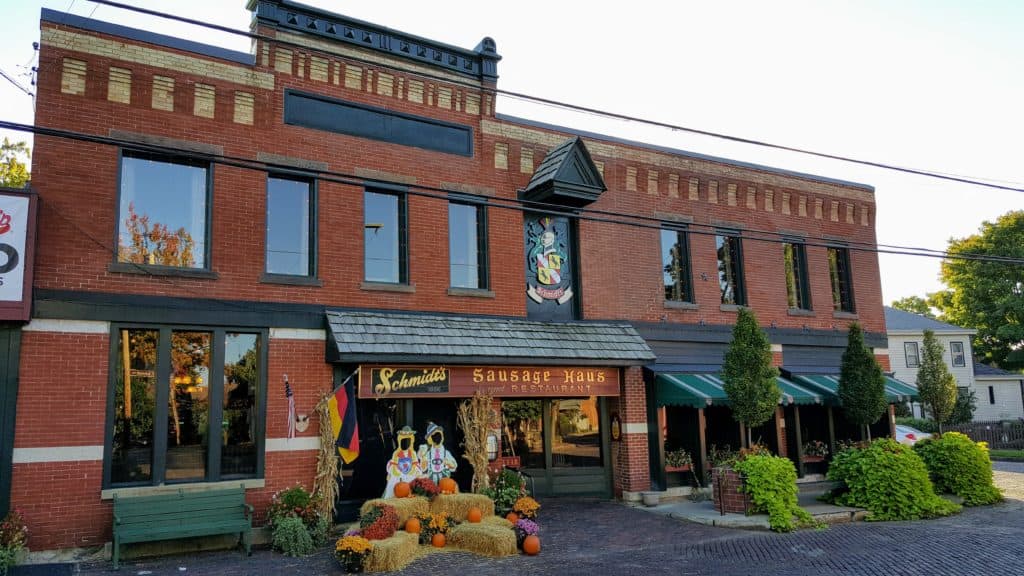 Among the most historic and popular German Village restaurants is Schmidt's. The restaurant's creator, J. Fred Schmidt, left Germany and settled in Ohio, where he opened up a meat packing company. His business thrived, selling meat across the state and, eventually, the nation. The Schmidt family opened up a booth at the Ohio State Fair where they began designing their menus. Beloved by the fair-goers,and they eventually opened up an official restaurant have been serving customers faithfully since. This restaurant was showcased on the famous program "Man V Food," so if you feel like attempting the challenge, stop by Schmidt's, where they offer bottomless sausage plates.
Matt's Favorite:
If you like spicey food, you can't go wrong with the Bahama Mama. If you like dessert then go with the vanilla cream puff.
Website:
---
8. The Old Mohawk
With a mysterious history of possibly running as a speakeasy and serving up turtle soup from turtles in the basement, The Old Mohawk restaurant has its share of charm and history. Though it has seen its share of owners and name changes, the restaurant has consistently given delicious food and good times. They offer a large bar with plenty of different food options, from Mexican dishes to more traditional American fare. This restaurant is perfect for families, groups, and couples, as it offers a casual dining experience with a uniquely local vibe.
Matt's favorite:
Embrace the German culture and try their Bratwurst Dinner!  They source their bratwurst from Carly's Brats in Bucyrus, Ohio, home of the Bratwurst festival, for a reason.
Website:
---
7. South Village Grille
This is my wife's favorite and another stop to consider when visiting German Village. Although lacking the long history of some of the area restaurants, the restaurant has made quick work of building up a reputation for excellent service and food. Combining upscale service with a casual and relaxing atmosphere, South Village Grille is perfect for the customer or family wanting to dress up a little or just eat dinner casually. Their philosophy centers around excellent service and allowing their staff to have some fun. This cultivates a welcoming and enjoyable atmosphere that you'll want to be a part of time and time again.
South Village Grille notably comes from the Orange Umbrella Group, which owns many Columbus favorites such as The Rossi, Local Cantine, Jony's Sushi (next door to SVG), and Bendi Wok n Bar.
Matt's Favorite:
Since this is truly my wife's favorite place, I will give her pick, the Cobb Salad.
Website:
https://www.southvillagegrille.com/
---
6. Brown Bag Deli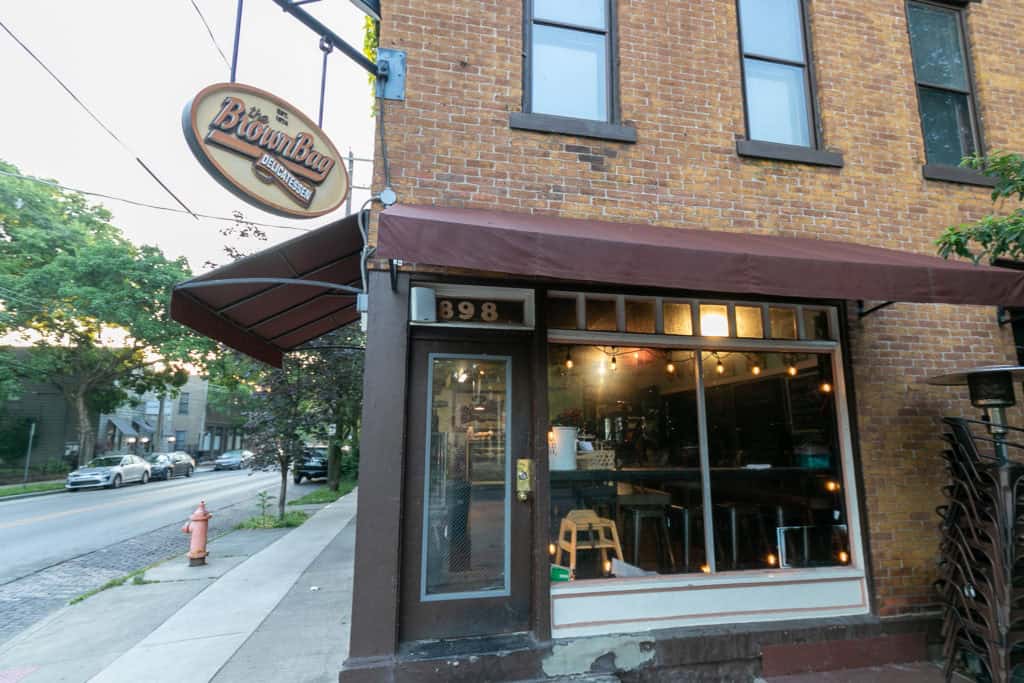 Choosing Brown Bag above Katzingers may be blasphemy for some in the area, but I can't help it! I'm a fan of the Brown Bag. For those who love to eat outside and enjoy an easy and casual dining experience, then the Brown Bag Deli is for you. As their name might suggest, they are the powerhouse in serving unique and much-beloved sandwiches. Make sure you come hungry, too, as they believe in large portions fit to fill any stomach. Where other delis might skimp out on meat or other ingredients, the Brown Bag Deli makes your sandwich fresh and serves you a heavy and packed sandwich sure to delight your taste buds. This restaurant is perfect for families and people wanting a quick–but filling–bite for lunch.
Matt's Favorite:
#7 The Village Addiction, rings true to its name for me. Thanksgiving in a sandwhich, enough said.
Website:
https://www.thebrownbaggv.com/menu-1
---
5. Chapman's Eat Market
Look, I know I'm going to get crap for not having this at number 1 or at least in the top 3, and I get it. This is the hottest restaurant in Columbus, thanks to the lofty promo from the New York Times and their amazing food. Chapman took over the original Max & Erma's space (briefly home to Wonderbar), and it is packed every single night. Reservations are hard to come by, and I've truly only been there one time, so I find it hard to put it higher than number 5 at the moment. However, based on all the local feedback, you will not regret the opportunity to dine here….if you can get in, that is!
Matt's Favorite:
I can't really claim a favorite here, as I've only been here once as mentioned before. However, we did get a free dessert that was amazing called a Maple Hazelnut Budino, and wow was that good!
Website:
https://www.eatchapmans.com/
---
4. The Thurman Cafe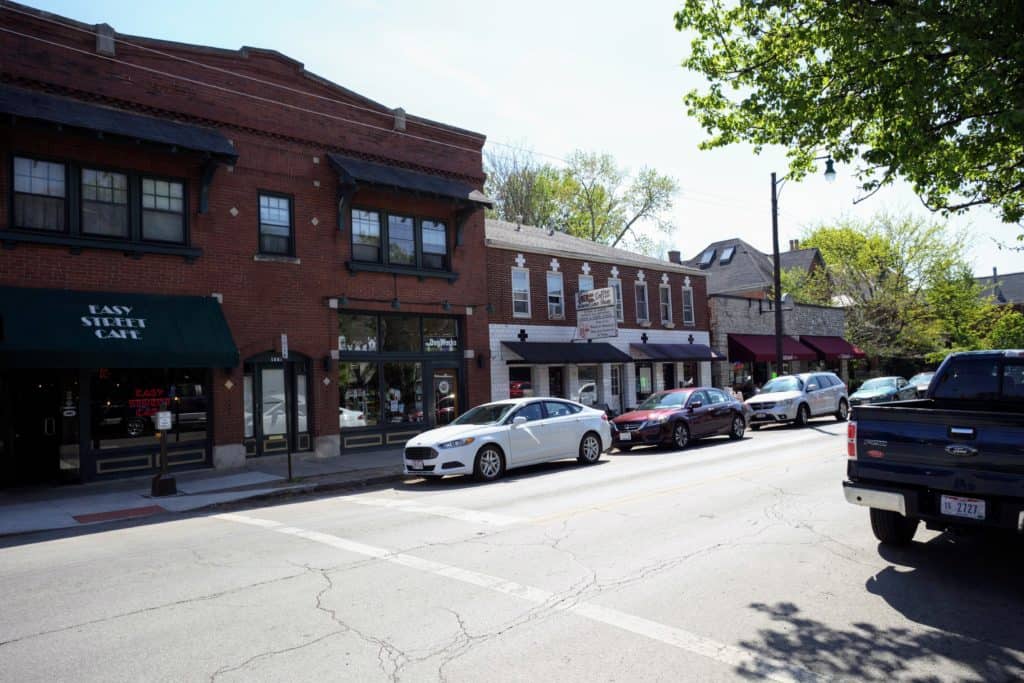 Another restaurant steeping in history is The Thurman Cafe. Operating since 1942, this restaurant is determined to be your go-to place for burgers. While it has the appearance of a small dive bar, they offer typical bar food favorites as well as their own famous burgers, like the Thurminator (named for Arnold, who loves this place). The staff is is also super fun and likes to joke around. If you are really hungry, this is the place to go as I've never left without feeling completely stuffed.
Matt's Favorite:
The Thurman Burger..duh.
Website:
https://thethurmancafe.com/
---
3. Lindey's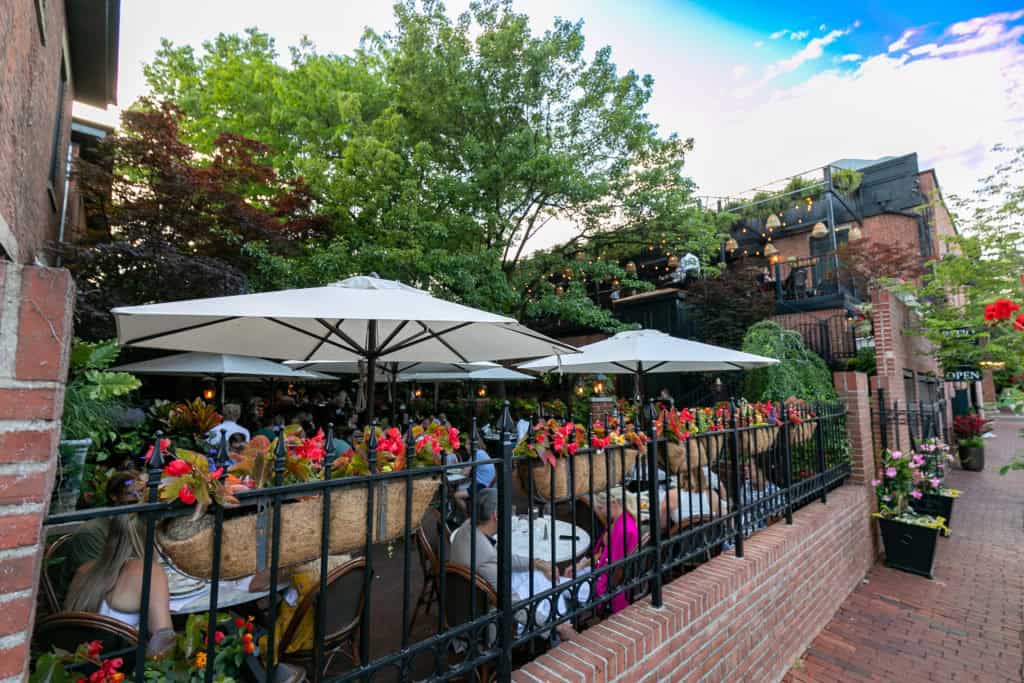 Need a place to set the scene for a romantic evening or an upscale dining experience? Then, in my opinion, Lindey's is the restaurant to check out. Their low-lit, beautifully decorated restaurant caters to a more elegant experience, and their patio is truly amazing. This restaurant is one the few in the area you need to dress up a bit for, but you will see all levels of dress from business casual to dressier. Both the food and the atmosphere are among the best in German Village. They are also a great to kick off your adventures for the Village Lights. I have to admit, most people would rate this #1 in German Village.
Matt's Favorite:
I get the burger almost every time I go, it is spectacular but I know that isn't what most would enjoy in a fancier place. If I'm in the mood to splurge I go with the Steak Frites and a Weller on the rocks.
Website:
---
2. Valters at the Maennerchor
If you want to scratch that itch for German culture, you need to stop at Valters. Originally founded 168 years ago by men who ran a singing and society club, the restaurant eventually emerged from that idea. You can feel as though you left America behind in this historic building and eating the cuisine by serving German food, drinks, and atmosphere. Extra points for being the best German food in German Village (sorry, Schmidts, but it's true).
Matt's Favorite:
Jägerschnitzel, with the Spätzle. What am I speaking German now?
Website:
https://valtersatthemaennerchor.com/
---
1. Club 185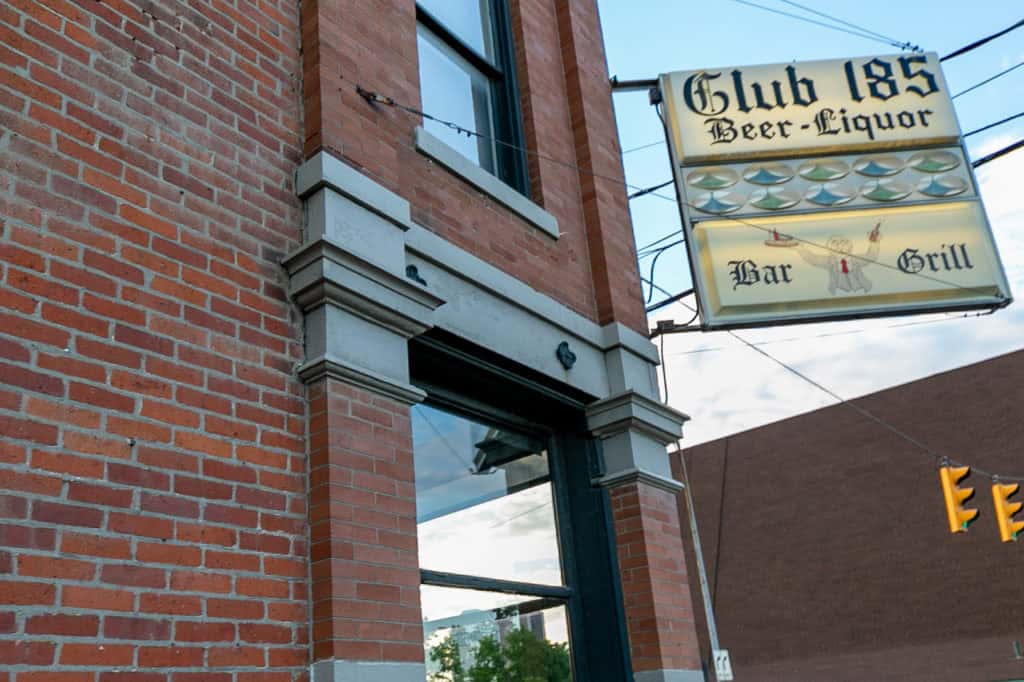 Remember, this is my list, and yes, Club 185 is absolutely my favorite restaurant in German Village. The vibe, the menu offerings, the service, the drinks, and the price are all incredibly hard to beat, not just in German Village, mind you. If you are looking for a casual hang out with some incredible food offerings, then look no further. Club 185 is your destination of choice.
Matt's Favorite:
Pot Roast Sliders and their club sandwich are two of my favorites, but most of the time, I go for the double press burger with bacon (yep, it's a good thing I walk a lot) and a pint of Guinness during their happy hour.
Website:
---
Honorable Mention #1 Bendi Wok n Bar
Bendi Wok n Bar is a great new place other North East side of the village. The food is incredibly spicy though, so we typically stick with the "0". If you like hot food I can't imagine there is a better place in town.
Website:
I Can't Believe These Didn't Make it:
There are a lot of great choices in German Village, but they can't all be top 10! I suppose we will call these the "almost" honorable mentions.
Katzinger's Delicatessen is excellent, but I feel like it's not quite the same over the last few years. The sandwiches have been very hit or miss, but the latkes and their desserts always hit the mark.
Pistachio Vera– This place is fantastic, but they don't have many actual "meal" options, and they no longer offer in-door seating, so it was a bit easier to leave them out of the top 10 "restaurants". Their croissants and pastries are out of this world. So is the salmon sandwich.
Eat Until You Drop
There are plenty of selections to choose from when considering where to eat your next meal at German Village in Ohio. I hope that my favorites can help you narrow down your next dining option when you're in the area!
Consider checking out 10 Great Things to do in German Village