Ten of the best things to do in German Village, Ohio:
Located in beautiful downtown Columbus, Ohio, German Village has an unmatched sense of history and culture. The neighborhood is green and walkable, with historic residences, long-standing businesses and beautiful parks located throughout. With an excellent beer and food scene, great outdoor spaces and a wide variety of shopping opportunities, German Village offers great activities for people of all ages and interests. It was honestly nearly impossible just to pick 10, however, I tried to narrow it down the best that I could!
1. Eat at Schmidt's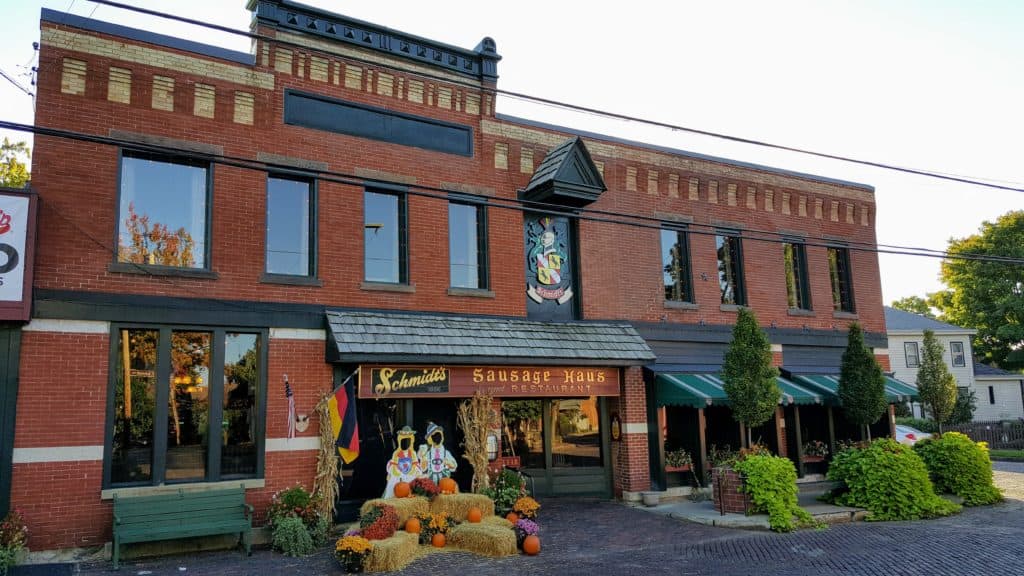 Any first-time visitor to German Village should start with a trip to Schmidt's. Perhaps the most famous restaurant in all of Ohio, Schmidt's has been serving authentic German sausages since 1886. The environment inside Schmidt's is designed to be authentically German and it manages to do so without seeming overly touristy. As a nationally-renowned restaurant, Schmidt's takes pride in its homemade sausages and cream puffs. Schmidt's most famous sausage is the Bahama Mama, a mildly spicy beef and pork smoked sausage. For dessert, Schmidt's has amazing homemade cream puffs that melt in your mouth and will leave you wanting more. Schmidt's also sells sausage and desserts for purchase to-go, so you can take the food home and prepare it in your own back yard. They also have a food truck you may be able to track down during special events. I have even seen it in the Ace Hardware parking lot in Worthington during the lunch hour.
2. Visit Schiller Park
Located on the south end of German Village, Schiller Park is the largest park in the area. With large grassy areas, ample seating, big shade trees and plenty of great activities, those seeking outdoor relaxation will be able to spend hours in Schiller Park. Poetry buffs will enjoy the statue of German poet Freidrich Schiller, after whom this park is named. The newer Umbrella Girl statue and fountain provides a pleasant area to sit and relax. The park also features a playground, tennis courts, a recreation center, a basketball court and plenty of areas to picnic and enjoy the outdoors. As an active urban park, there is always something to do or watch, making for a great weekend or weekday experience. The park is located in residential neighborhoods, making it a very walkable and bike-able destination.
3. Enjoy the Bar Scene
For beer enthusiasts and those who just want to sip a cold one after work, there are few better areas in Columbus to explore different varieties of beer. Located immediately adjacent to Columbus' historic Brewery District (named after the old Schlee Brewery, which was in operation from 1849 until Prohibition), several breweries, pubs, and other drinking establishments including the Rockmill Tavern and Plank's Bier Garten serve a wide variety of German and other beers. Most of the bars in the German Village area offer a generous weekday happy hour, making this a great after-work destination.
4. Visit the Book Loft
The Book Loft is one of the largest independent bookstores in the United States. Thirty-two different rooms of books are located within several pre-Civil War era buildings within German Village. The Book Loft features an enormous selection – everything from the latest work of fiction to obscure how-to guides to non-fiction literature. Bookworms should be careful – it is easy to spend an entire afternoon browsing the Book Loft. The Book Loft is a key part of the German Village community, serving as a community gathering place and a major "third place" for residents in the area.
5. Grab a Coffee & Relax
Several local coffee roasters are located in German Village, making for a great place to drink a hot cup of coffee. With several outdoor cafes, there is a place for everybody to work, relax or simply be outside. Stauf's Coffee Roasters offers sidewalk seating in the commercial core of German Village, including a wide range of pastries. Your pup will also enjoy the dog treats at Stauf's! Additionally, Winans Coffee and Chocolate sells a great variety of coffee and homemade chocolates.
6. Go Shopping
Besides the Book Loft, a large variety of shopping opportunities exist within German Village. With dozens of different retail stores, there is something for just about everybody looking for a specialty item. German Village offers bridal stores, furniture stores, gift shops, wine stores and art galleries. Helen Winnemore's sells a great variety of local art and gifts, while Hausfrau Haven sells a wide range of beer and wine with over 5,000 wine bottles in stock!
7. Visit a Bakery
German Village has several bakeries featuring homemade breads, candies, chocolates, and other desserts. Pistacia Vera, located on the north end of German Village, features macarons and other pastries with comfortable sidewalk seating perfect for a weekend morning. Several shops, including Winans Coffee and Chocolate, also sell homemade candy and chocolate. Jeni's Ice Cream, a local Columbus ice cream parlor, has a location in German Village selling excellent homemade ice cream and candies. My personal favorite, Kittie's Hand Crafted Cakes makes some of the best cupcakes and cookies I have ever eaten.
8. Take a Walk or a Tour
The German Village Society offers guided group tours of German Village, focusing on its history and architecture. Several different tour options are available including a sixty minute overview walking tour, trips through Schiller Park, and tours of an authentic 19th Century German Village home. Tours begin at the German Village Meeting Haus.
9. Check out the Village Lights
During the holiday season, German Village takes great pride in its amazing light displays. The beautiful historic architecture and classical feel creates an amazing location to take a stroll and get into the holiday spirit. The Village Lights typically takes place the first Sunday in December, when over 11,000 lights throughout the core of German Village create a festive, welcoming atmosphere. Retailers and restaurants offer discounts and provide holiday treats, making for a great way to spend a day with your loved ones. You can visit https://germanvillage.com/villagelights/for more information. It has one of the best atmospheres I have been around for the holiday season.
10. Attend the Art Crawl
The German Village Art Crawl takes place every July in Macon Alley in the heart of German Village. The Art Crawl is a combination of a drinking festival and an art showcase, with art from local painters and sculptors on display and available for purchase. Local brewers come out in force as well, providing beverages within the art crawl area. Live music from a main stage contributes to the festival-like atmosphere, making for a great way to spend a summer evening.
---
---
Consider Living in German Village
If any of the above looks like your cup of tea, perhaps you should explore the possibility of living in German Village! Below are some of the current listings available: