Let's Explore the Storied History of Schiller Park in German Village, OH
The second oldest park in the city and one of the largest, Schiller Park was established in 1857 and has been a centerpiece of activity ever since. Located in German Village, a historic district just south of downtown Columbus, Schiller Park was originally known as Stewart's Grove, then simply City Park. It was later named for famous German poet Friedrich von Schiller and the name remains the same today. In 1891, an exact duplicate of the von Schiller statue in Munich, Germany was placed in Schiller Park where it still stands today to greet visitors and residents of German Village.
Throughout its history, Schiller Park has hosted numerous historical events – in 1890, the Ohio State Buckeyes football team played their very first home game here, and the Ohio State Fair was housed in the park in both 1864 and 1865, and of course, the yearly Oktoberfest is held here. Currently, within its 23-plus acres visitors will find the beautiful Huntington Gardens, numerous recreational facilities, picnic sites, statuary, and the ever-popular amphitheater where Shakespearean productions are a favorite.
German Village itself was settled by German immigrants as far back as 1814 and is now one of the largest privately-funded historic districts in the United States. Those early settlers took pride in their new country, building their homes, businesses, and schools and fighting in our wars. This German-American community produced one of the most famous heroes and air aces of all time, Capt. Eddie Rickenbacker.
Famous for their beer-brewing skills, a brewery district was established nearby and kept the area thriving until the days of prohibition began to take their toll. As the breweries were closed, many lost jobs and homes. The neighborhoods began to decline and were further impacted by the general populace's hatred of anything German during the years of World War I and II. Even Schiller Park was temporarily renamed Washington Park, as many of the streets of German Village had German-sounding names. In the early 1950s, the area has declared a slum and was slated for demolition. A portion of the neighborhood was demolished to make way for an interstate highway, and the rest was left to slowly deteriorate.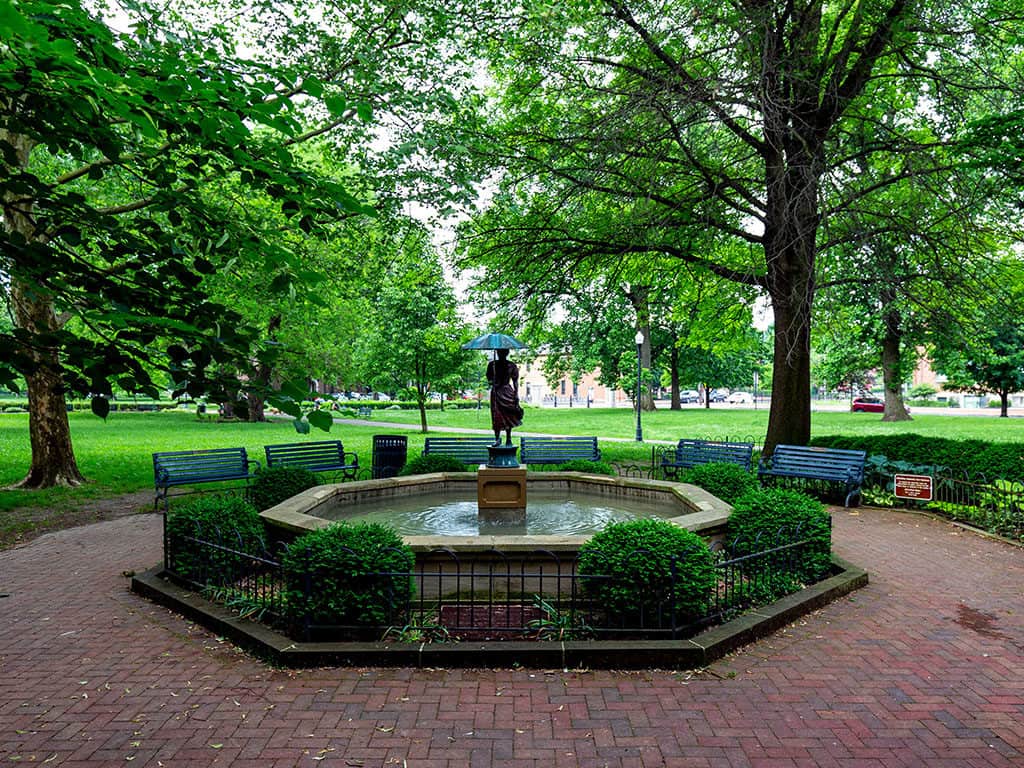 Determined to save their neighborhood and heritage, a group led by Frank Fetch came together and formed the German Village Commission. Their purpose was to restore and revitalize the architecture and uniqueness of their little village. They succeeded; more than 1,600 buildings have been restored since 1960, and in 1975 German Village was placed on the National Registry of Historic Places. Even the White House recognized their efforts and in 2007 deemed German Village a Preserve America Community.
Schiller Park Theater
Don't miss the Actors' Theatre of Columbus and their free schiller park plays in the spring and summer at the Schiller Park Theater. The shows are free and often feature actors in training, but they are a true delight. While performances are free they do accept donations at the show or on their website. This is a great cause to both support and enjoy.
German Village Real Estate
Living in German Village today, one finds an eclectic, friendly neighborhood with a low crime rate, highly rated schools, and a population of whom 76% have a college degree. Many of the residents are descendants of some of the early settlers and are active in maintaining the personality of the area they have inherited. Although there are many unique businesses and award-winning restaurants, the area is mostly residential. Redbrick homes surrounded by wrought iron fencing front the shaded brick-paved streets surrounding Schiller Park, while cottages and houses are known as Dutch Doubles blend with the larger, more ornate Italianate and Queen Anne architectural styles also add to the ambiance of the neighborhood. Yearly Haus And Garten tours are popular with both visitors and residents.
German Village Real Estate lists home prices ranging from low fixer-uppers to a few listed at over a million dollars, with slightly more than $377,000 being the median average to purchase one of these historic homes. The median rent is around $1800 per month. German Village Real Estate prices have gone down somewhat over the past few years but is still a strong, healthy market in which to invest.
Anyone deciding that living in German Village is just their style should be prepared for hot, muggy summers and cold, dry winters. The climate is a blend of the semi-tropical from the south and the cold that swings down from the north. Heavy snow isn't usually an issue, but the area is sometimes prone to severe thunderstorms and the possibility of tornadic activity.
Below is a list of homes currently for sale in German Village. Please feel free to contact me if you would like to take a look at any of these properties: